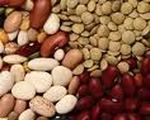 Prep: 25 min
Cook Time: 20 min
Total: 45 min
Serving: 4
Kale and Beans are flavored with Rosemary and Thyme for a warm and hearty dish.
Ingredients
3/4 cup low sodium vegetable broth
1 cup onion, chopped
3 garlic cloves, finely chopped
1 pound kale, tough stems removed and leaves thinly sliced
1, 15 ounce can Great Northern beans, rinsed and drained
1 teaspoon fresh rosemary, finely chopped
1 teaspoon fresh thyme, finely chopped
1/4 teaspoon crushed red pepper
1/8 teaspoon black pepper
Directions
Bring broth to simmer in a large skillet over medium high heat. Add onion and garlic to cook until tender, about 7 minutes.
Stir in kale, beans, rosemary, thyme and crushed red pepper. Cover, and reduce heat to medium and cook 5 minutes, stirring once. Uncover and cook 4 minutes or until kale is tender. Stir in black pepper.