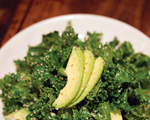 Prep: 10 min
Cook Time: –
Total: 10 min
Serving: Serves 4-6
This Japanese-inspired salad combines the slightly bitter and fresh taste of kale with creamy and buttery avocado. Sprinkle the salad with raw hemp seeds to add a nutty taste similar to that of pine nuts, and enjoy.
Ingredients
1⁄2 cup fresh orange juice
3 tablespoons fresh lemon juice
2 teaspoons soy sauce
1 clove garlic
4 tablespoons extra-virgin olive oil
3 avocados, halved, pitted, and peeled
2 tablespoons raw hemp seeds
1 bunch kale (about 3⁄4 pound), stemmed and finely chopped
Sea salt and freshly ground black pepper
Directions
Smash the garlic, sprinkle with salt and mash into a paste. Place the garlic into a small bowl along with the orange juice, lemon juice and soy sauce and whisk to combine. Slowly pour in the olive oil while whisking vigorously to blend; set aside.
Cut two of the avocados into cubes and then thinly slice the third. Place the cubed avocado into a shallow salad bowl along with the hemps seeds and the kale. Add a few healthy pinches of salt and pepper and then toss the salad with the dressing to coat. Garnish with the sliced avocado and serve immediately.