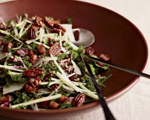 Prep: 10 min
Cook Time: 6 min
Total: 16 min
Serving: Makes 12 Servings
This salad is not only beautiful to serve but it also combines a unique blend of flavors from the combination of buttery pecans, salty pancetta, sweet apple and slightly bitter kale.
Ingredients
2 cups pecans, lightly toasted
Sea salt and freshly ground pepper
1/4 cup extra-virgin olive oil
6 ounces thickly sliced pancetta, finely diced
1/4 cup white wine vinegar
2 tablespoons caper brine, from a jar of capers
3 tablespoons pure maple syrup
Freshly ground black pepper
2 Granny Smith apples, cut into matchsticks
1 head large radicchio, shredded
1 8 ounce bunch kale, stems discarded, leaves finely shredded
3 tablespoons snipped chives
1 tablespoon chopped tarragon
2 ounces shaved pecorino
Directions
Place the pancetta and the olive oil in a medium-sized skillet over moderate heat for 6 minutes, stirring frequently, and then transfer to a plate lined with paper towels.
Pour the pancetta drippings into a large salad bowl and then add the vinegar, caper brine, maple syrup and a few pinches of salt and pepper. Whisk the mixture vigorously to combine and then add the apples, radicchio, kale, chives, tarragon and pecorino. Toss to coat.
Serve the salad topped with the toasted pecans and the cooked pancetta.