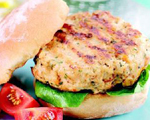 Prep: 20 min
Cook Time: 24 min
Total: 44 min
Serving: 4 Servings
Turkey burgers are hearty and delicious and have less than half the fat of regular beef burgers. Serve with a side of mixed roasted vegetables drizzled with olive oil.
Ingredients
1-1/2 pounds ground turkey
1/2 cup finely grated Gruyere cheese
4 thinly sliced scallions
1/4 cup dried breadcrumbs
1/4 cup Dijon mustard
1 clove garlic, minced
Sea salt and freshly ground pepper
Vegetable oil, for grill
4 hamburger buns
Directions
Prepare grill on high heat.
Combine the ground turkey with cheese, scallions, breadcrumbs, mustard, and garlic in a large bowl. Sprinkle with salt and pepper and mix by hand.
Form the ground turkey mixture into 4, 1-inch thick patties and set aside.
Brush the grill with oil and grill patties for 2 minutes per side, flipping once. Move the patties to a cooler area on the grill and continue to cook for 8-10 minutes per side until thoroughly cooked.
Garnish with sliced tomatoes, lettuce and onions.