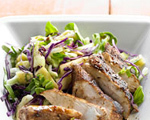 Prep: 15 min
Cook Time: 10 min
Total: 25 min
Serving: 4 Servings
Jerk seasoning is made from a blend of allspice and bonnet peppers, but can also contain cloves, cinnamon, nutmeg, garlic and thyme. Make your own version or purchase an authentic Jamaican mix from a specialty food store.
Ingredients
3 heads baby bok choy, trimmed and thinly sliced
2 cups shredded red cabbage
1/2 of a peeled, cored fresh pineapple, chopped
2 tablespoons cider vinegar
4 teaspoons packed brown sugar
2 teaspoons all-purpose flour
2 teaspoons jerk seasoning
4 small skinless, boneless chicken breast halves
1-1/2 tablespoons Olive oil
Directions
Put 2 teaspoons of the brown sugar into a large sealable plastic bag along with the flour and the jerk seasoning. Add the chicken to the bag, seal and then shake until chicken is thoroughly coated.
Place the olive oil into a large sauté pan over medium heat. Once the oil begins to shimmer, add the chicken and cook on each side for 4 minutes. Slice the chicken and set aside.
Place the bok choy, cabbage and pineapple into a bowl and toss to combine.
Place the cider vinegar and 2 teaspoons of the brown sugar into a small bowl and whisk together until the sugar has completely dissolved. Pour the dressing over the cabbage mixture and toss once again to combine. Serve with the sliced chicken.