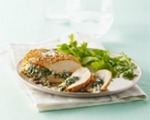 Prep: 20 min
Cook Time: 25 min
Total: 45 min
Serving: 6 servings
Chicken breasts stuffed with spinach and ricotta, with a crispy coating of Kellogg's All-Bran® cereal
Ingredients
250 millilitres (1 cup) All-Bran Buds® or All-Bran Original® cereal
30 millilitres (2 tablespoons) chopped fresh parsley
2 millilitres (1/2 teaspoon) each salt and fresh cracked pepper
10 millilitres (2 teaspoons) plus 30 millilitres (2 tablespoons) vegetable oil
50 millilitres (1/4 cup) finely chopped shallots
1 clove garlic
1 litre (4 cups) fresh chopped spinach, or 250 millilitres (1 cup) frozen spinach, thawed and drained
250 millilitres (1 cup) ricotta cheese
50 millilitres (1/4 cup) grated Parmesan cheese
15 millilitres (1 tablespoon) chopped fresh thyme
6 boneless, skinless chicken breasts
1 egg
Directions
Process cereal in a food processor until it has reached a breadcrumb-like texture. Transfer to a large plate and toss with parsley and half the salt and pepper.
In a large nonstick skillet, heat 10 millilitres (2 teaspoons) of the oil over medium-high heat. Cook shallots until tender, about four minutes. Add garlic and cook one minute. Stir in spinach and cook until spinach is wilted and no liquid remains, about three minutes. Let cool. Stir in ricotta, Parmesan and thyme.
Butterfly chicken by slicing breast in half lengthwise, keeping one end connected. Stuff each chicken breast by placing 1/4 of the ricotta mixture onto one side of the chicken breast. Fold over to close. Repeat with remaining chicken breasts.
Dip stuffed chicken breasts into egg and then into cereal crumb mixture, pressing gently to evenly coat. In a large oven-proof skillet, heat oil over medium heat and brown chicken on all sides. Transfer to 190-degree C. (375-degree F.) oven and bake until chicken is cooked through, about 25 minutes.