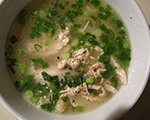 Prep: 15 min
Cook Time: 18 min
Total: 33 min
Serving: 4
Enjoy the simple yet flavorful tastes of Japanese cuisine in this traditional chicken and scallion rice bowl.
Ingredients
1-1/2 cups instant brown rice
1 cup reduced-sodium chicken broth
1-1/2 tablespoons sugar
2 tablespoons reduced-sodium soy sauce
1 tablespoon rice wine
2 large egg whites
1 large egg
8 ounces boneless, skinless chicken breasts, cut into 1/2-inch pieces
6 scallions, trimmed and thinly sliced
Directions
Make the brown rice according to package directions and divide between four bowls. Set aside.
Place the broth, sugar, soy sauce, rice wine and chicken in a medium-sized saucepan and bring to a boil.
Once boiling, reduce the heat to medium-low and leave to simmer.
Place the egg whites and the egg into a bowl and mix with a fork until just combined, and then slowly pour into the chicken broth mixture without stirring.
After two minutes, add in the scallions and then stir the mixture with a knife. Cook for an additional two minutes and then ladle it into the prepared rice bowls and serve.