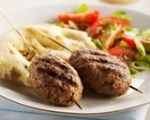 Prep: 20 min
Cook Time: 10 min
Total: 30 min
Serving: 4-6 servings
Tasty beef kabobs made with Kellogg's All-Bran® cereal
Ingredients
15 millilitres (1 tablespoon) vegetable oil, divided
1 onion, minced
1 clove garlic, minced
5 millilitres (1 teaspoon) turmeric
10 millilitres (2 teaspoons) ground cumin
125 millilitres (1/2 cup) All-Bran Buds® or All-Bran Original® cereal
1 kilogram (2 pounds) ground beef
60 millilitres (4 tablespoons) fresh parsley, finely chopped
5 millilitres (1 teaspoon) salt
2 millilitres (1/2 teaspoon) fresh cracked pepper
15 millilitres (1 tablespoon) canola oil
Directions
Heat half of the oil in non-stick skillet over medium-high heat. Cook onions, stirring often, until tender and golden, about six minutes. Add garlic and cook just until fragrant, about 30 seconds. Remove from heat and scrape mixture into a bowl to cool completely.
Stir cereal, beef, turmeric, cumin, parsley, salt and pepper into the cooled onion mixture.
Form sausage shapes with 50 millilitres (1/4 cup) of the mixture around metal or soaked-bamboo skewers. Lightly brush with remaining oil.
Grill over medium heat, turning often, until cooked through, about 10 minutes.