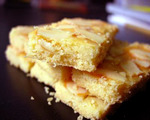 Prep: 30 min
Cook Time: 25 min
Total: 55 min
Serving: 10
Jan Hagels are Dutch cookies flavored with cinnamon and sprinkled with slivered almonds.
Ingredients
1 stick margarine, softened
1 stick butter, softened
1 cup sugar
1 egg yolk, separated
2 cups flour
1/2 teaspoon salt
1 teaspoon cinnamon
slivered almonds
Directions
Mix margarine, butter, sugar and egg yolk. Add flour, salt and cinnamon. Spread on a greased cookie sheet. Brush with slightly whipped egg white. Sprinkle with sugar and cinnamon on top and slivered almonds.
Bake at 350 degrees F for 25 minutes. When cooled, cut into bars.