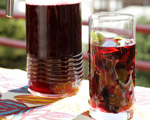 Prep: 20 min
Cook Time: 5 min
Total: 25 min
Serving: Makes 3 quarts
The secret ingredient for this delicious ruby red punch is dried Jamaica flowers, also known as hibiscus or 'flor de Jamaica.' You can find them in Latin markets or order them online.
Ingredients
3 quarts (12 cups) water
1, 1/2-inch piece ginger, finely gratedv
1-1/2 cups dried Jamaica flowers v
2/3 cup honey
2 tablespoons freshly squeezed lime juice (from about 1 large lime)
Directions
Place the water and ginger into a large pot and bring to a boil.
Once boiling, remove the pot from the heat and add the flowers and the honey. Stir the mixture until the honey is completely dissolved and then let the mixture steep for 10 minutes.
Strain the mixture twice through a fine mesh strainer and into a pitcher.
Add the lime juice, stir to blend and then place in the refrigerator to chill. Serve in ice-filled glasses.