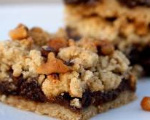 Prep: 5 min
Cook Time: 20 min
Total: 25 min
Serving: 32 bars
Sweet and crunchy snack bars with strawberry jam.
Ingredients
3 cups miniature marshmallows
1 cup plus 1 tablespoon crunchy peanut butter
1/2 cup butter
4 1/2 cups rice cereal
2/3 cup strawberry jam
1/2 cup milk chocolate chips
2 teaspoons shortening
Directions
Melt the marshmallows, 1 cup of peanut butter and butter over low heat, stirring until smooth. Quickly add in the cereal and stir until coated. Press into an 11x7-inch pan.
Spread the jam over the hot mixture.
Mix together the chocolate chips, remaining peanut butter and shortening in a small saucepan. Heat on low, stirring constantly, until melted. Spread over the bars.
Refrigerate until firm and then cut into bars.