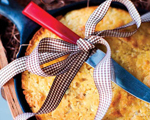 Prep: 15 min
Cook Time: 35 min
Total: 50 min
Serving: Three 6-1/2-inch pans of bread
Give your cornbread a jolt of spicy flavor with the addition of diced jalapeno peppers.
Ingredients
1-3/4 cups medium grind yellow cornmeal
1-1/4 cups all-purpose flour
1/3 cup sugar
1 tablespoon baking powder
2 teaspoons salt
3 eggs, beaten
1-3/4 cups buttermilk
1 can (15-ounce) creamed corn
1/2 cup jalapeños
1/2 cup shredded Cheddar cheese
6 tablespoons melted butter
Butter, for coating cast-iron skillet
Directions
Preheat the oven to 375 degrees, and butter three 6-1/2-inch skillets or bread pans.
Place the cornmeal, flour, sugar, baking powder, and salt into a large bowl and mix to combine with a whisk.
Place the eggs with the buttermilk into a medium bowl, and mix with a whisk to combine.
Pour the wet mixture into the dry mixture and stir to blend, and then fold in the creamed corn, jalapenos, cheese and melted butter.
Place the prepared pans into the oven and heat for 4 minutes, then pour the batter into the pans and cook for 30 minutes, or until a toothpick inserted into the middle of the bread tests clean.