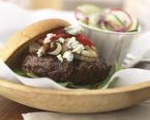 Prep: 15 min
Cook Time: 14 min
Total: 29 min
Serving: 6 servings
Mix the typical burger meal up a bit, opt for this Jalapeno and blue cheese burger for dinner.
Ingredients
2 pounds ground beef
6 jalapeno peppers, seeded and chopped
1 cup crumbled blue cheese
2 tablespoons finely minced onion
2 teaspoons minced garlic
2 tablespoons soy sauce
6 slices provolone cheese
6 hamburger buns, split
1/2 cup mayonnaise
1/4 cup ketchup
shredded letttuce
Directions
Mix together the beef, jalapeno peppers, blue cheese, onion, garlic, soy sauce and salt to taste. Form into 6 patties.
Grill for about 7 minutes per side, until done. Add a slice of cheese to each patty and continue cooking until melted.
Blend together the mayonnaise and ketchup and spread on the bottom bun. Place a cooked patty on top and top with lettuce and the top bun.