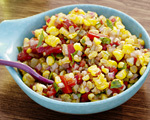 Prep: 15 min
Cook Time: 13 min
Total: 28 min
Serving: 4 Servings
Grilling the corn adds a smoky sweetness to this jalapeno relish that can't be beat. Make this relish the day before serving to allow the flavors to blend together.
Ingredients
1 jalapeño pepper
1 red sweet pepper, chopped
2 tablespoons chives, chopped
1 tablespoon shallot, chopped
2 fresh ears of corn, husked
1 tablespoons olive oil
1 tablespoon cider vinegar
Sea salt and freshly ground pepper
Directions
Prepare a grill on medium heat.
Using a sharp knife, thinly slice the jalapeno pepper, remove the seeds and chop into small pieces. Place in a bowl along with the sweet pepper, chives, and shallot.
Place the corn on the grill and cook for 13 minutes, turning occasionally to ensure even cooking. Remove from grill and cut off kernels once cool enough to hold.
Place the corn kernels into the bowl with the jalapeno pepper mixture then add the olive oil, vinegar and a few pinches of salt and pepper. Toss to coat and then serve.