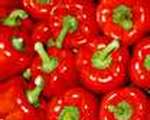 Prep: 25 min
Cook Time: 30 min
Total: 55 min
Serving: 8
Italian Veal and Peppers is a hearty dish your family will love.
Ingredients
1/3 cup olive oil
2 garlic cloves, sliced
2 medium onions, sliced
3 green peppers, sliced
3 red peppers, sliced
2 tablespoons red wine vinegar
1 teaspoon dried basil
1/2 teaspoon dried oregano
salt and pepper
8 veal cutlets, 1/4 inch thick
1/3 cup flour
butter
Directions
In 12 inch skillet over medium-high heat, in hot olive oil, cook garlic until browned; discard garlic. Add onions, green and red peppers; cook 2 minutes, stirring frequently. Stir in vinegar, basil, oregano, 2 teaspoons salt, and 1/4 teaspoon pepper. Reduce heat to medium; cover and cook 10 minutes, stirring frequently. With slotted spoon, remove vegetables to medium bowl; keep warm.
Meanwhile on cutting board, pound cutlets lightly on both sides with meat mallet until 1/8 inch thick; sprinkle with salt and pepper. On waxed paper, lightly coat cutlets with flour. In same skillet over medium-high heat, melt 3 tablespoons butter. Cook meat, a few pieces at a time, until lightly browned on both sides, removing pieces as they brown and adding more butter if necessary.
Arrange meat and peppers on platter or serve in skillet.