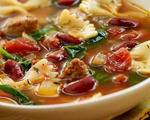 Prep: 10 min
Cook Time: 15 min
Total: 25 min
Serving: 4 Servings
Use either sweet or hot Italian-style turkey sausage for this rustic vegetable soup. Accompany with thick slices of toasted bread drizzled with olive oil.
Ingredients
8 ounces sweet or hot Italian-style turkey sausage (cut into 1/2-inch thick slices)
1 tablespoon butter
1 tablespoon olive oil
2 large carrots, chopped (about 1 1/2 cups)
1 medium onion, chopped
1 large leek, trimmed, cut lengthwise into four equal pieces and sliced (about 2 cups)
1 cup peeled, cubed potatoes
4 cups vegetable broth
4 cups water
1 teaspoon salt
1 teaspoon ground black pepper
1/2 pound fresh green beans, trimmed and cut into 1-inch pieces
2 cups chopped zucchini
1 (28-ounce) can crushed tomatoes
1/2 pound fresh tomatoes, chopped
1 (15-ounce) can cannellini beans, drained and rinsed
1/2 cup uncooked bowtie pasta
Directions
Place the butter into a large soup pot over medium heat. Once melted, add the sausage and cook for 3 minutes, and then add the carrots, onion and leek, and sauté for 4 minutes.
Stir in the potatoes, broth and the water and bring the mixture to a boil. Simmer the soup until the potatoes are just tender, and then add the green beans, zucchini, crushed tomatoes, chopped tomato and beans. Cook the mixture for 8 minutes.
In the meantime, cook the pasta as directed on the package, and then add to the soup. Stir to combine and then serve hot.