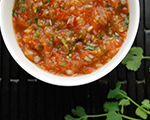 Prep: 15 min
Cook Time: –
Total: 15 min
Serving: 4 Servings
Otherwise known as 'Tomato Salsa Verde,' this sauce is perfect poured over roasted pork, chicken, or even baked potatoes.
Ingredients
3 anchovy fillets, rinsed and chopped
1 clove garlic, chopped
1/3 cup chopped fresh flat-leaf parsley
1/4 cup chopped celery leaves
2 tablespoons packed chopped fresh basil
1/4 cup extra-virgin olive oil
1 tablespoon balsamic vinegar
1 cup diced seeded tomatoes
1/4 teaspoon sea salt
Freshly ground pepper to taste
Directions
Use a food processor to blend the anchovies, garlic, parsley, celery leaves and basil together until smooth.
Slowly pour the oil down the flute of the food processor with the machine running.
Next, pour in the vinegar and pulse until mixture has blended.
Transfer the sauce to a bowl and stir in the tomatoes and a sprinkle of salt and pepper.