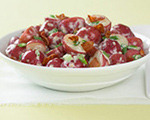 Prep: 10 min
Cook Time: 30 min
Total: 40 min
Serving: 6 Servings
Use baking potatoes for this classic Italian side dish as they will not lose their shape or become overly soft. Serve as a wonderful accompaniment to roast chicken or fish.
Ingredients
2 cups unpeeled baking potatoes, cut into 1-inch cubes
3/4 cup onions, finely chopped
1/2 cup carrot, finely chopped
1/2 cup chicken broth
2 tablespoons tomato paste
1/2 teaspoons each salt and freshly ground pepper
2 cloves garlic, minced
2 tablespoons fresh parsley, chopped
Directions
Place all of the ingredients, except for the parsley, into a large saucepan over medium-low heat and cook for 30 minutes, stirring occasionally.
Take the pan off the heat, Stir in the parsley and then serve immediately.