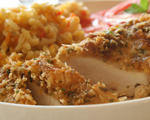 Prep: 10 min
Cook Time: 55 min
Total: 1 hr 5 min
Serving: 8 servings
Dredging chicken breasts in a seasoned breadcrumb mixture creates a golden and crispy crust while keeping the chicken tender and juicy inside. Serve with an American Sauvignon Blanc or a Pouilly-Fumé.
Ingredients
8 large boneless, skinless chicken breasts
1/4 cup chopped fresh parsley
1 large clove garlic, minced
1-1/2 cup dry bread crumbs
3/4 cup freshly grated Parmesan cheese
1/2 teaspoon salt
1/4 teaspoon fresh black pepper
1/4 teaspoon paprika
1/8 teaspoon cayenne
Olive oil
1/2 cup butter cut into small pieces, plus some for greasing pan
Directions
Preheat your oven to 350 degrees and grease a baking dish with butter.
Place the parsley, garlic, breadcrumbs, cheese, salt, pepper, paprika and cayenne into a bowl and mix well to combine.
Dredge the chicken breasts in the breadcrumb mixture and then place in the buttered pan. Drizzle the chicken with olive oil and then top with the pieces of butter. Place the pan in the oven and bake the chicken for 55 minutes. Serve immediately.