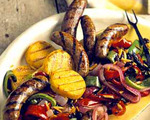 Prep: 10 min
Cook Time: 15 min
Total: 25 min
Serving: 6 Servings
Grill up this colorful combination of sweet Italian sausage with sweet peppers, and accompany with a bottle of Tempranillo or a Bordeaux.
Photo originally appeared on www.bhg.com
Ingredients
3 tablespoons slivered almonds, toasted
1/4 cup raisins
3 tablespoons red wine vinegar
2 tablespoons sugar
1/4 teaspoon salt
1/8 teaspoon black pepper
1 tablespoon olive oil
2 green sweet peppers, cut into 1-inch-wide strips
2 red sweet peppers, cut into 1-inch-wide strips
1 medium red onion, thickly sliced
6 sweet Italian sausage links, pricked with a fork
Directions
Prepare your grill on medium heat.
In the meantime, combine the toasted almonds, raisins, vinegar, sugar, salt and pepper in a small saucepan and heat the mixture, stirring frequently, over medium heat until all of the sugar has dissolved.
Place the peppers and the onion into a bowl, add the olive oil and toss to coat. Transfer the vegetables to the grill, along with the sausages, and cook for 15 minutes, turning once.
Put the sausages and vegetables on a platter, drizzled with the almond sauce. Serve immediately.