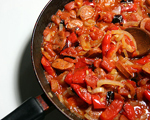 Prep: 15 min
Cook Time: 30 min
Total: 45 min
Serving: Serves 6
An authentic Italian one-dish meal that is quick to make and bold in flavor. Use mild or spicy Italian sausage, depending on your personal taste.
Ingredients
6 (4 ounce) links sweet Italian sausage
2 tablespoons butter
1 yellow onion, sliced
1/2 red onion, sliced
4 cloves garlic, minced
2 large red bell pepper, sliced
1 teaspoon fresh basil
1 teaspoon dried oregano
Salt and pepper to taste
1/4 cup white wine
Directions
In a large frying pan, brown the sausages on all sides over medium-high heat. Remove from the pan, allow to cool slightly, and then slice into 2-inch pieces.
Add the butter to the pan and sauté the yellow onion, red onion, and garlic for about 3 minutes. Add the red and green bell pepper, and season the mixture with basil, oregano and a pinch of salt and pepper.
Pour in the wine and cook until the onions are tender.
Put the sausages into the pan and mix with the vegetables. Reduce heat to low and simmer, covered, for 15 minutes. Serve hot with fresh bread or over pasta with marinara sauce.