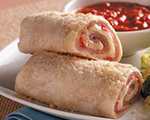 Prep: 15 min
Cook Time: 15 min
Total: 30 min
Serving: 12 roll-ups
Enjoy these Italian-inspired roll-ups made with parmesan, mozzarella cheese and spicy salami. Serve with a side of marinara sauce for dipping.
Ingredients
1 (10-ounce) can refrigerated pizza dough
2 ounces (1/2 cup) Parmesan cheese, shredded
2 ounces (1/2 cup) Mozzarella cheese, shredded
8 slices of salami or ham
1/2 cup chopped pimento
Directions
Preheat the oven to 350 degrees.
On top of a clean and lightly floured surface, form the dough into a 12x8-inch rectangle.
Evenly sprinkle the cheeses over the dough, leaving 1/2-inch around the edges, and then layer on the salami and the pimento.
Roll the dough up like a jelly roll and then pinch the edges of the roll to seal. Cut into 1-inch thick slices.
Place each slice onto a baking sheet and bake for 15 minutes. Serve warm.