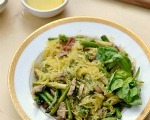 Prep: 15 min
Cook Time: 55 min
Total: 1 hr 10 min
Serving: 4 People
Spaghetti squash is one of the most verstaile ingredients out there and can be subbed in for almost any kind of pasta. Not only does this make a option for people with gluten allergies, but it's also a great way to get your kids or picky husbands to eat more veggies! This recipe is perfect for those who have never prepared it because it's super easy and incredibly delicious. Paired with a fresh, homemade pesto and vegetables, this dish is also full of health benefits and antioxidants!
Ingredients
FOR THE PESTO
2 cups fresh basil leaves
2 garlic cloves
1/2 cup Parmesan cheese
1/3 cup pecans, chopped
1/2 cup olive oil
2 tablespoons lemon juice
FOR THE SQUASH:
1 medium spaghetti squash, halved and seeded
3/4 pound asparagus, cut into thirds
1 cup mushrooms, chopped
1 onion, chopped
1 tablespoon olive oil
1 garlic clove, minced
Salt and pepper
Directions
To prepare the pesto, place walnuts, oil and basil leaves into a blender or food processor. Pulse on low until creamed. Add in cheese, lemon juice and garlic cloves and continue to pulse until mixture is creamy and mixed. Add additional salt and pepper to taste. Cover and chill in the fridge.
To prepare the dish, preheat the oven to 375 degrees F. Place the squash flesh side down in a jelly roll pan. Fill the pan with a 1/2-inch water. Bake squash for at least 35-40 minutes or until you can easily pull the noodles out with a fork.
While squash bakes, prepare veggies. Heat olive oil in a medium pan over medium-high heat. Add garlic and onions; cook until just translucent, about two to four minutes. Add in mushrooms and asparagus and cook until asparagus is soft, about five more minutes.
Once the squash has cooled, carefully pull the flesh from the squash using a fork. Place in a bowl. Add in veggies and mix up with a tong, add in pesto and enjoy! Serve with a dash more fresh Parmesan.