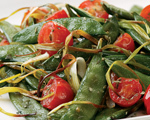 Prep: 15 min
Cook Time: 25 min
Total: 40 min
Serving: 4 Servings
A super-simple Italian side dish with beautiful presentation from the vivid green and red colors of the roasted snap peas and tomatoes.
Ingredients
1 large leek, white part only, halved lengthwise and thoroughly washed
1 pound sugar snap peas, trimmed
2 teaspoons extra-virgin olive oil
1/2 teaspoon sea salt
1 cup cherry tomatoes, halved
1 teaspoon dried oregano
Directions
Preheat your oven to 425 degrees.
Using a sharp knife, cut the leeks lengthwise into extremely thin 2-inch long strips and then place into a bowl.
Add the peas, salt and the olive oil to the bowl, and toss the mixture to coat. Transfer the leek mixture to a baking sheet and evenly spread onto the pan.
Place the pan in the oven and roast the vegetables for 15 minutes. Remove the pan, toss the tomatoes with the mixture and then place back into the oven for an additional 10 minutes.
Transfer the mixture to a serving bowl, toss with the oregano and serve immediately.