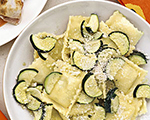 Prep: 10 min
Cook Time: 16 min
Total: 26 min
Serving: 4 Servings
This tasty dish is perfect for a weeknight dinner in a flash; by the time the pasta is cooked you will have finished preparing the sautéed zucchini and onion topping.
Ingredients
1, 9 ounce package cheese ravioli
1/2 cup walnuts, coarsely chopped
2 tablespoons olive oil
2 medium zucchini, halved lengthwise and sliced
6 green onions, diagonally sliced 1/4-inch thick
1/2 cup milk
1 cup finely shredded Parmesan cheese (4 ounces)
salt and pepper
Directions
Prepare the ravioli according to package directions and drain.
Meanwhile, heat a large sauté pan over medium-high heat and cook the walnuts until lightly toasted, and then remove from pan.
Add the zucchini and onion to the pan and sauté for 3 minutes.
Place the drained pasta into the pan along with the milk and 3/4 of the cheese, and cook for 1 minute.
Season the pasta mixture to taste with salt and pepper and then transfer to 4 plates. Sprinkle with the remaining cheese and serve immediately.