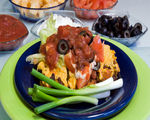 Prep: 10 min
Cook Time: 12 min
Total: 22 min
Serving: 4
A mix of two cultures.
Ingredients
3 pita breads
1 cup shredded mozzarella cheese
1 tablespoon grated parmesan cheese
1 teaspoon dried basil
1 teaspoon dried oregano
1/2 teaspoon dried thyme
1/4 teaspoon paprika
1/4 teaspoon freshly ground black pepper
Directions
Place foil on two cookie sheets.
Spray with non stick spray.
Cut each pita into 1 1/2 inch triangles.
Pull apart each triangle and split, making two pieces.
Place on on cookie sheets in a single layer.
In bowl mix the cheeses and remaining ingredients together.
Sprinkle over the pita pieces.
Bake at 350 degrees for 12 minutes or until golden and the cheese is melted.
Cool slightly and serve.