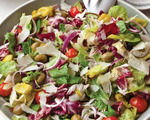 Prep: 15 min
Cook Time: –
Total: 15 min
Serving: 8 servings
A flavorful mix of vegetables, olives, pepperoncini, and Parmigiano-Reggiano cheese creates a classic, oil and vinegar-topped salad that every Italian mother knows how to prepare. Serve with thick slices of peasant bread.
Ingredients
1 clove garlic, smashed
Sea salt
2 tablespoons red wine vinegar
1/2 teaspoon dried oregano
1/4 cup plus 3 tablespoons extra-virgin olive oil
Freshly ground pepper
1 large romaine heart, chopped
1 small head of radicchio, halved, cored and coarsely chopped
1/4 head of iceberg lettuce, coarsely chopped
1 tender celery rib, thinly sliced
1/2 small red onion, thinly sliced
1/2 cup cherry tomatoes
1/4 cup pitted green olives, preferably Sicilian
8 peperoncini
2 ounces Parmigiano-Reggiano cheese, shaved 1 cup
Directions
Place the garlic into a large salad bowl, sprinkle with a pinch of sea salt and mash into a paste with the back of a spoon or a pestle.
Add the vinegar and oregano to the bowl and then slowly pour in the oil while whisking vigorously to blend. Season the dressing to taste with salt and fresh pepper.
Place the remaining ingredients into the salad bowl and then toss to coat. Serve immediately.