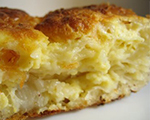 Prep: 15 min
Cook Time: 25 min
Total: 40 min
Serving: 1, 9-inch pie
This dish can be enjoyed as a main dinner accompanied with a salad, or served as a light lunch with a glass of wine.
Ingredients
4 beaten eggs
1/3 cup milk
1/4 cup unbleached all-purpose flour
1/2 teaspoon baking powder
1/8 teaspoon garlic powder
2 cups shredded mozzarella cheese (8 ounces)
1 cup cream-style cottage cheese with chives
1 cup bottled meatless spaghetti sauce or salsa
Fresh basil sprigs to garnish
Directions
Preheat the oven to 375 degrees and lightly grease a 9-inch pie pan with oil or cooking spray.
In a large bowl, beat together the eggs, milk, flour, baking powder, and garlic powder with a handheld mixer until well combined.
Fold in the cottage and cheddar cheeses and then pour the mixture into the prepared pie plate.
Bake the pie for 25 minutes or until a knife inserted into the middle of the pie tests clean.
In the meantime, place the spaghetti sauce in a small sauce pan and heat over medium-low heat for 5 minutes.
Remove the pie from the oven and let stand for 3 minutes before cutting into wedges and serving with a dollop of spaghetti sauce and fresh basil sprigs on top.