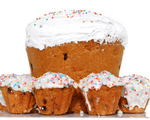 Prep: 2 hr 45 min
Cook Time: 40 min
Total: 3 hr 25 min
Serving: Makes 2 cakes
This Easter cake is part of an ancient tradition that involves a young fiancé presenting this cake to her husband-to-be on Easter Sunday. You don't have to be getting married to enjoy the rustic uniqueness of Alchermes–a liqueur–and the dainty meringue that crowns this Easter dish. (Alchermes may be found in Italian specialty shops.)
Ingredients
1 tablespoon active dry yeast
1 1/4 cups buttermilk, warmed to 110 degrees F
5 tablespoons sugar
3 large eggs at room temperature
Zest of 1 orange, finely grated
Zest of 1 lemon, finely grated
4 tablespoons unsalted butter, softened at room temperature
1/2 cup Alchermes, or another red-colored liqueur
1 teaspoon salt
5 to 5 1/2 cups all-purpose flour (you may not use all the flour)
4 large egg whites at room temperature
1/4 teaspoon salt
1/4 cup sugar
Colored sprinkles
Directions
In the bowl of a stand mixer fitted with the paddle attachment, dissolve yeast in buttermilk; stir in 1 teaspoon sugar and allow the mixture to sit for 5 minutes to bloom the yeast.
On low speed, beat in eggs one at a time until well blended; add zests, butter, liqueur, salt, and remaining sugar and blend until smooth.
Gradually add the flour, 1 cup at a time, until a dough forms and leaves the sides of the bowl; the dough should feel tacky, but not moist and sticky.
Dump the dough onto a lightly floured surface and knead with your hands until the dough becomes a smooth, soft ball, 5 to 10 minutes.
Put the dough in a bowl sprayed with cooking spray and turn the dough over to coat. Cover bowl with plastic wrap and let dough rise until it has doubled in size, about 2 hours. Punch dough down with your fist and dump it onto a lightly floured surface; knead again for 3 to 4 minutes. Divide the dough in half and roll each half into a 2-foot rope; bring the ends of the rope together and form two rings. Place each on a baking sheet and cover. Set aside to rise for 30 minutes.
Preheat oven to 375 degrees F. While bread is rising for the second time, make the meringue. Place egg whites in a clean mixing bowl and, using a hand mixer, beat on medium speed until foamy; increase the speed to high and add the salt and sugar; continue to beat until egg whites are fluffy and hold their peaks; set aside. Uncover dough and bake for 30 minutes, or until just cooked through.
Quickly cover the cakes with meringue and sprinkles, if using. Bake for an additional 10 minutes, or until meringue is lightly browned. Remove from the oven and allow to cool completely. Cut into thick slices to serve.