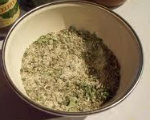 Prep: 5 min
Cook Time: –
Total: 5 min
Serving: prepared makes 1 1/2 cup
Italian dressing concentrate powder. In powder form can be kept for up to 3 months. When prepared it can be refrigerated for up to 1 month.
Ingredients
2 teaspoons onion powder
1 tablespoon white sugar
1/8 teaspoon black pepper
1/8 teaspoon powdered allspice
1 teaspoon dry, minced onions
1 teaspoon dry celery flakes
1/8 teaspoon crushed marjoram leaves
1/4 teaspoon dry oregano, crushed
1 clove garlic peeled, sliced fine OR 2 teaspoons bottled minced garlic
1/8 teaspoon paprika
2 squares of soda crackers (1 1/2" squares)
Directions
Blend everything together. Keep covered until ready to use.
To use: Mix with 1/2 cup vinegar, 2/3 cup cold water and 1/3 cup corn oil. Shake well.