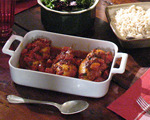 Prep: 10 min
Cook Time: 35 min
Total: 45 min
Serving: 6 Servings
Tender and juicy seasoned chicken breasts are smothered in a flavorful tomato and red wine sauce. Serve with a side of rice pilaf and a crisp green salad.
Ingredients
6 boneless and skinless chicken breasts
3 tablespoons olive oil
1/4 cup sweet onion, chopped
8 cloves garlic, minced
2 cups chopped plum tomatoes with juice
1/4 cup red wine
1 teaspoon oregano
2 sprigs fresh basil
FOR RUB:
2 teaspoons paprika
2 teaspoons thyme
2 teaspoons rosemary
2 teaspoons basil
2 teaspoons oregano
2 teaspoons garlic powder
Sea salt and freshly ground black pepper
Directions
Place all of the spices for the rub into a bowl and mix to combine. Rub the chicken breasts with the spice mixture and then set aside at room temperature for 30 minutes.
Prepare your grill on medium-high heat.
In the meantime, place the olive oil into a large sauté pan and sauté the onion and garlic for 3 minutes over medium heat, stirring frequently. Add the tomato sauce and red wine and bring the mixture to a boil.
Grill the chicken for 2 minutes on each side and then transfer to the pan with the tomato sauce. Cover the pan and simmer the chicken over medium-low heat for 30 minutes.