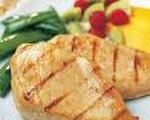 Prep: 20 min
Cook Time: 8 min
Total: 28 min
Serving: 6
Italian Chicken Sub Sandwich is constructed on a 12 inch loaf of Italian bread.
Ingredients
3 tablespoons black olives, pitted and finely chopped
2 tablespoons capers, rinsed and chopped
2 tablespoons mayonaise
1, 12 inch loaf Italian bread, split lengthwise
2 teaspoons olive oil
1 pound bag frozen pepper stir fry mix
2 garlic cloves, minced
1 teaspoon balsamic vinegar
8 ounces chicken breast, cooked and sliced
1/4 teaspoon salt
ground black pepper, to taste
1/2 cup fresh basil leaves
Directions
In a small bowl, mix together the olives, capers and mayonaise. Spread the mixture over the cut side of the top of the loaf of bread.
In a medium skillet over high heat, combine the oil and pepper mix. Saute until peppers are tender and browne, about 5 minutes. Add the garlic and vinegar and cook for another minute.
Spoon the peppers evenly over the bottom half of the loaf of bread. Top with the chicken, then season with salt and pepper. Add a layer of fresh basil leaves. Place the top half of the loaf on the sandwich, then cut into 6 slices.