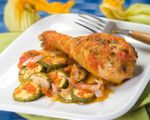 Prep: 15 min
Cook Time: 6 hr
Total: 6 hr 15 min
Serving: 4
Brought to you from Cooking on the Double
Ingredients
12 oz. boneless, skinless check breast halves
1 1/2 cup fresh whole mushrooms, halved
1 pkg. frozen Italian green beans (9 oz.)
1 sm. onion, sliced ¼ inch thick
1 can Italian-style stewed tomatoes (14½ oz.)
1 can Italian-style tomatoe paste (6 oz.)
1 can dried Italian seasoning
1 tsp. minced garlic
6 oz. fettuccini or spaghetti
Parmesan cheese, grated
Directions
Rinse chicken and pat dry with paper towels.
Cut into 1-inch pieces.
Place mushrooms, green beans, and onion in a 3½ or 4-quart crock pot.
Place chicken on top of vegetables.
Combine the undrained tomatoes, the tomato paste, Italian seasoning, and garlic in a small bowl.
Pour over chicken.
Cover; cook on low for 5 to 6 hours (high 2½ to 3 hours).
Cook fettucini or spaghetti according to package directions; drain.
Stir chicken mixture; serve over pasta.
Top with Parmesan cheese.