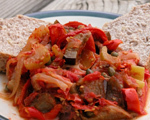 Prep: 2 hr 10 min
Cook Time: 15 min
Total: 2 hr 25 min
Serving: 9
Caponata is a traditional Sicilian dish made with tomatoes and eggplant. Enjoy it as an appetizer, served with crackers or chunks of peasant bread -- or as a hearty side dish with a glass of Pollino or Zagarolo DOC.
Ingredients
1/2 cup onion, chopped
2 garlic cloves, crushed
1-1/2 tablespoons olive oil
7 cups eggplant, chopped and peeled
3/4 cup tomato, chopped
2 tablespoons fresh basil, chopped
2 tablespoons red wine vinegar
1/4 teaspoon sea salt
1/4 teaspoon freshly ground black pepper
Directions
Place the olive oil in a large sauté pan over medium heat and sauté the onion and the garlic for four minutes, stirring frequently.
Add the eggplant and the tomato, stir to combine and then cook for ten minutes, stirring occasionally to prevent sticking.
Stir in the basil, vinegar, salt and pepper and then transfer the mixture to a bowl. Cover and place in the refrigerator for two to three hours.