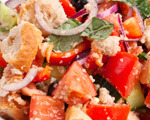 Prep: –
Cook Time: –
Total: –
Serving: 4 People
Mama Mia Monday just might be your favorite day of the week with this rich Italian bread salad. The hearty flavors are outstanding and this is perfect for a busy Monday night meal. Toss in some mozzarella cheese and Mama Mia, more-a-please-a!
Ingredients
5 cups cubed Italian bread, sitting out while other ingredients are prepared
3 large tomatoes, chopped
2 cloves garlic, 1 whole, 1 finely diced
1 small red onion, diced
1 cup packed fresh basil leaves
1/2 cup olive oil
2 tablespoons balsamic vinegar
1 tablespoon capers, drained
Directions
Rub the whole garlic clove over the bread before cubing. Coat your salad bowl by rubbing it down with the garlic clove.
Cube the Italian bread and place it inside the bowl.
Add the tomatoes, diced garlic and red onion. Tear the basil leaves and combine.
Add the olive oil, balsamic vinegar and capers, tossing to coat everything. Enjoy!