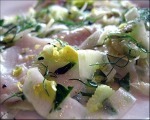 Prep: 72 hr 20 min
Cook Time: 25 min
Total: 72 hr 45 min
Serving: Serves 6 people
This traditional dish -- Italian Baccala (Cod) Salad -- is a staple in many Italian households on Christmas Eve. Simple and versatile, it's great accompanied by your favorite cold vegetable or just on its own.
Ingredients
2 pounds skinless, boneless salt cod (baccala)
1/4 cup olive oil
Juice of two lemons
20 pitted and coarsely chopped Italian olives
1 clove garlic, finely chopped
2 tablespoons finely chopped fresh basil
2 celery stalks, chopped into 1/4-inch pieces
Coarse salt and freshly ground pepper to taste
Directions
Put the cod in a large bowl of cold water and refrigerate for 3-4 days, changing the water once a day.
Once ready, drain the cod and cut it into 3-inch pieces. Transfer to a large saucepan. Cover the fish with water and bring to a boil over medium-high heat. Once boiling, reduce the heat to medium and cook for about 15-20 minutes (or until the fish flakes easily with a fork).
Drain the cod and transfer it to a bowl filled with cold water. Cool the fish in the water for 10-15 minutes.
In a large bowl, whisk the olive oil, lemon juice, garlic, olives, celery and basil and season with the coarse salt and freshly ground pepper.
Drain the cooled cod and "chunk it" with a fork into bite-sized pieces. Add to the bowl with the seasoned mixture and toss it gently to coat. Refrigerate it for about an hour prior to serving. Serve it chilled, accompanied by your favorite chilled vegetable or on its own.