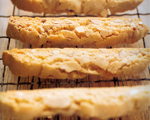 Prep: 30 min
Cook Time: 35 min
Total: 1 hr 5 min
Serving: Yield 2 dozen
These delicate Italian cookies are a sweet treat to enjoy with a steaming cup of coffee or tea.
Ingredients
3/4 cup butter
1 cup sugar
3 eggs
3 cups flour
2 teaspoons vanilla
2 tablespoons Anise seed
3-3/4 teaspoons baking powder
1 cup chopped Almonds (can be substituted with Walnuts)
Directions
Preheat oven to 350 degrees.
In a medium-sized bowl, cream the butter, sugar and 1 tablespoon of the anise seed, and then add the eggs and vanilla; beat well.
In another bowl, combine the flour, baking powder and the remaining anise seed. Mix with a metal whisk and then add to the cream mixture. Fold in nuts.
Form the dough into 2 or 3 long thin rolls and place on ungreased cookie sheet. Bake biscotti for 15 to 20 minutes or until cookie rolls are light brown in color.
Remove from oven and cut diagonally into 1/2 to 3/4 inch slices. Place the slices back into the oven and bake for an additional 10 to 15 minutes until biscotti is lightly toasted.