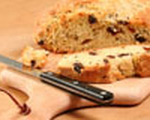 Prep: –
Cook Time: –
Total: –
Serving:
Irish soda bread isn't just delicious around St. Patty's day, it's perfect to make any time of the year. Serve it during a party or for game night, as it's sure to be a hit!
Ingredients
3 cups unbleached all-purpose flour
2 tsp. Kosher salt
1 tbsp. baking powder
1 tsp. baking soda
3/4 cup sugar
6 tbsp. butter, cut up
1 1/2 cups of dried fruit (raisins, currants, cranberries, dried cherries or blueberries)
1 3/4 cup buttermilk
2 eggs
Directions
Preheat oven to 350 degrees. Place a piece of parchment paper in a cake pan.
Stir together the dry ingredients, cut in 4 tablespoons of butter until incorporated. Add the fruit.
In another bowl whisk together the buttermilk and eggs. Add to the dry ingredients and stir until just blended. Do not over mix.
Spoon the stiff batter into the paper lined pan, dot the top with the remaining butter and sprinkle with about 1 tbsp. coarse raw sugar crystals.
Place the pan in the oven and bake until the bread is puffed and golden brown, about 45 to 55 minutes.
Cool in the pan about 10 minutes and then lift out the paper and bread onto a wire rack to continue cooling. May be served warm or cool.