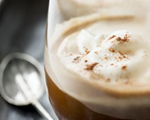 Prep: 15 min
Cook Time: –
Total: 15 min
Serving: 8 Servings
The best way to top off a wonderful meal is with a rich cup of Irish coffee. For some it's even considered the perfect dessert!
Ingredients
3 cups heavy or whipping cream
7 tablespoons sugar
1 cups Irish whiskey
6 cups rich, hot brewed coffee
Grated nutmeg or ground cinnamon for garnish
Directions
Beat the cream with 3 tablespoons of sugar in a large bowl until soft peaks form. Refrigerate the whipped cream, covered, until ready to serve.
Warm 8 glasses by filling each with hot water, leaving for at least 1 minute and then draining. Immediately put 2 tablespoons of whisky into each glass.
Dissolve the remaining 4 tablespoons of sugar in the coffee. Pour the coffee into each glass, leaving about 1/4-inch space from the top.
Holding a large spoon upside down over the glass, slowly pour the whipped cream onto the spoon so it slides into the glass and floats on top of the coffee.
Sprinkle the coffee with nutmeg or cinnamon and serve immediately.