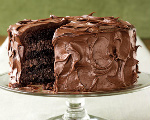 Prep: 35 min
Cook Time: 25 min
Total: 1 hr
Serving: 8 servings
A decadent chocolate layered cake covered with chocolate frosting!
Ingredients
6 ounces white chocolate, for garnish
1 cup (2 sticks) unsalted butter
1 cup plus 3 tablespoons granulated sugar
1 1/2 cups all-purpose flour
1/2 cup plus 3 tablespoons unsweetened cocoa powder
1 tablespoon baking powder
1 teaspoon salt
4 large eggs
1/2 pint heavy cream
10 1/2 ounce semisweet chocolate
Directions
Finely grate white chocolate onto a plate using a vegetable peeler. Put into the refrigerator until needed. Preheat oven to 350 degrees Fahrenheit.
Grease the bottom of two 8-inch- round cake panes; line with parchment paper. Mix sugar, butter, flour, cocoa, baking powder, eggs, and salt in a large bowl. With an electric mixer set on medium beat until mixture becomes smooth. Continue beating until there is an increase in volume, about 2 minutes longer. Split batter between the two pans.
Bake until a toothpick inserted into the center comes out clean (20-25 minutes). Allow to cool in the pan for 1 minute, then place on wire rack to cool using the parchment paper to remove cakes from the pans. Peel off paper.
Meanwhile, bring heavy cream to a light boil. Snap the chocolate into pieces and combine with the cream. Stir until melted. Allow to cool and then chill for 30 minutes, then thicken by whisking the mixture into a spreadable consistency.
Using 1/3 of the chocolate frosting, sandwich the cakes together. Then use the remaining 2/3 to frost the outside of the cake Garnish with the white chocolate.