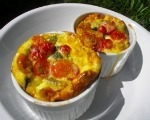 Prep: 15 min
Cook Time: 30 min
Total: 45 min
Serving: Serves 4 people
This frittata recipe combines the zesty taste of Italian sausage and the abundance of vegetables to make this dish hearty and delicious. Using individual ramekins makes it a fun way to serve this dish. Substitute a meatless sausage to make this a vegetarian-friendly recipe.
Ingredients
1 tablespoon olive oil
2 links Italian sausage (can substitute meatless sausage)
2 tablespoons finely chopped red onion
12 cremini mushrooms, sliced
1 cup chopped arugula
1/4 cup diced roasted red peppers
8 eggs
1/2 teaspoon salt
1/4 teaspoon black pepper
1/4 cup shredded Italian cheese blend
Non-stick cooking spray
Directions
Preheat your oven to 350 degrees F. Spray 4, 6-ounce ramekins with non-stick cooking spray and place on a baking sheet.
Heat the oil in a medium-sized skillet over medium heat. After you remove the casings from the sausage, add it to the skillet and cook until almost browed. Be sure to stir the sausage often and break it up into small pieces.
Add the onion to the sausage. Cook for about a minute, or until the onion is soft. Add the mushrooms and cook for about 5 minutes. Add the arugula and peppers. Cook for another minute, stirring. Divide the mixture evenly among the ramekins.
In a medium-sized mixing bowl, add the eggs, salt and pepper. Beat the eggs and whisk everything together. Pour the egg mixture over the vegetable and sausage mixture. Sprinkle with cheese.
Bake for 25-30 minutes or until the centers are set. Cool for about 10 minutes. The frittatas will deflate a little bit. Serve warm.