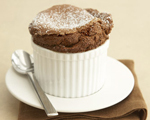 Prep: 20 min
Cook Time: 15 min
Total: 35 min
Serving: 8 Servings
Make this light and chocolaty dessert so each of your guests gets their own personal soufflé, dusted with powdered sugar and served warm.
Ingredients
10 ounces bittersweet (not unsweetened) or semisweet chocolate, finely chopped
3/4 cup heavy whipping cream
5 tablespoons sugar
2 tablespoons (1/4 stick) unsalted butter
1 tablespoon vanilla extract
1/4 teaspoon salt
6 large eggs, separated
Butter to grease ramekins
Sugar for sprinkling in the ramekins
Pinch of cream of tartar
Directions
Combine the first 6 ingredients in a large saucepan over low heat until the chocolate melts.
Preheat the oven to 350 degrees and grease 8, 3/4-cup ramekins with butter and then sprinkle with sugar.
Remove the mixture from the heat and allow to cool to lukewarm before whisking in the egg yolks.
In a large bowl, beat the egg whites with a pinch of cream of tartar until soft peaks form and then fold into the chocolate mixture in 4 additions.
Spoon the soufflé mixture into the ramekins and place in the oven for 15 minutes.
Remove and dust with sifted powdered sugar.