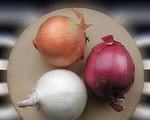 Prep: 55 min
Cook Time: 45 min
Total: 1 hr 40 min
Serving: 4-6
Indian Tacos are flavorful ground beef served with fry bread instead of tortillas.
Ingredients
Beef Mixture: 1/2 pound ground beef
1 teaspoon garlic, minced
1, 15 ounce can tomato sauce
1 package taco seasoning mix
2 cans red pinto beans, undrained
2 cups Fry Bread Mix
3/4 cups plus 2 teaspoon warm water
shortening for frying
Garnishes: picante sauce, lettuce, cheese, chopped onion
Directions
Cook ground beef and garlic together. Add tomato sauce, seasoning and pinto beans. Simmer 20 minutes.
Place fry bread mix in a large bowl; gradually add water. Mix well and set aside for 40 minutes.
Heat shortening to 400 degrees F. When shortening is ready, place dough on floured surface and roll 1/2 inch thick. Cut in 4 inch squares. Gently pull and stretch each piece as you drop it in the hot fat. Turn when brown and lift out and drain.
Serve hot with meat mixture. Top with garnishes.