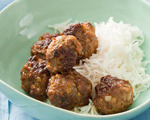 Prep: 10 min
Cook Time: 15 min
Total: 25 min
Serving: 4 Servings
These Indian Meatballs, flavored with a blend of cumin, turmeric, cinnamon, cayenne pepper and ginger, can be enjoyed alone as appetizers, or served over jasmine or basmati rice as a delicious and aromatic meal.
Ingredients
2 cups breadcrumbs
1-3/4 cup coconut milk
4 pounds ground lamb
2 tablespoons cumin
2 teaspoons turmeric
2 teaspoons cinnamon
2 teaspoons cayenne powder
4 tablespoons finely minced peeled fresh ginger
Salt and freshly ground pepper
4 tablespoons vegetable oil
Directions
Place the coconut milk into a large bowl, add the breadcrumbs and soak until all of the milk has been absorbed.
Add the lamb, cumin, turmeric, cinnamon, cayenne powder, ginger and a generous pinch of salt and pepper to the bowl, and mix the mixture well to combine. Form the lamb mixture into meatballs with clean, wet hands.
Place the vegetable oil into a large sauté pan over medium heat. Once the oil begins to shimmer, add the prepared meatballs and cook, in batches, for 15 minutes, turning frequently until browned on all sides. Serve hot.