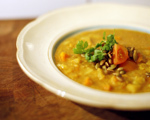 Prep: 10 min
Cook Time: 45 min
Total: 55 min
Serving: 4 Servings
This hearty Indian lentil soup is not only packed with nutrients and iron, but is also brimming with wonderful traditional Indian herbs and spices. Serve with a side of naan bread to complete the meal.
Ingredients
2 tablespoons olive oil
1 yellow onion, chopped
3 cloves of garlic
1 tablespoon fresh ginger, chopped
3 potatoes, chopped
2 carrots, chopped
1 cup red or yellow lentils
4 cups vegetable stock
1 handful of fresh tomatoes, chopped
1 tablespoon curry
1 teaspoon turmeric
1/2 teaspoon chili or harissa
sea salt to taste
roasted pumpkin seeds and fresh coriander to garnish
Directions
Place the oil in a soup pot over medium heat. Once the oil begins to shimmer, add the onion, garlic, ginger and all the spices, and sauté the mixture for 1-1/2 minutes, stirring frequently.
Stir in the potatoes, carrots and lentils, cook for 1 minute, and then pour in the vegetable stock. Bring the mixture to a boil, and then reduce the heat to medium and cook for 30 minutes.
Add the tomatoes, season with additional salt if needed and then cook the mixture for 10 minutes. Serve ladled into bowls and garnished with roasted pumpkin seeds and fresh coriander.