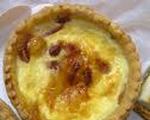 Prep: 10 min
Cook Time: 45 min
Total: 55 min
Serving: 6
Incredible Quiche forms a crust while baking. Incredibly easy and incredibly yummy!
Ingredients
3 eggs
1/2 cup biscuit mix
1/2 cup butter, melted
1 1/2 cups milk
1/4 teaspoon dry mustard
1/4 teaspoon salt
1, 8 ounce package Swiss cheese, shredded
1/2 cup ham, chopped
Directions
Place eggs, biscuit mix, butter, milk, dry mustard and salt into food processor. Process a few seconds to mix well. Pour mixture into a well greased pie pan.
Sprinkle cheese and ham over top and push gently below the surface.
Bake at 350 degrees F for 45 minutes or until set. Let quiche set for 10 minutes before cutting.