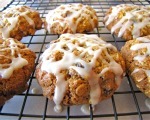 Prep: 15 min
Cook Time: 30 min
Total: 45 min
Serving: Makes 2-1/2 dozen cookies
Grab one or two! Iced Oatmeal Cookies make a great after-school or after-dinner treat, especially in the fall months. Applesauce helps keep the cookies moist.
Ingredients
4 tablespoons of unsalted butter, melted
1 cup of light brown sugar (packed)
1/2 cup of granulated sugar
1 large egg
1/2 cup of chunky applesauce
1-1/2 cups of old-fashioned, rolled oats
1/1/4 cup of all-purpose flour
1/2 teaspoon of baking soda
1/4 teaspoon of baking powder
1/4 teaspoon of course salt
1 cup of raisins
For icing: 1-3/4 cup of confectioner's sugar
3 tablespoons of pure maple syrup
3 tablespoons of water
Directions
Preheat oven to 350 degrees. Put butter and sugars into a bowl and combine using an electric mixer on low speed.
Add the egg and applesauce and mix until well blended (about 2-3 minutes). Mix in oats, flour, baking soda, baking powder and salt, then the raisins.
Line baking sheets with parchment paper and drop the cookie dough from a spoon, about 2 inches apart from each other. Bake until the cookies begin to turn golden (about 13-15 minutes).
Let the cookies cool on the baking sheets for about 5 minutes. Then transfer to wire racks.
For the icing, whisk together the confectioner's sugar, water and syrup until smooth. Drizzle over completely cooled cookies and allow to set.