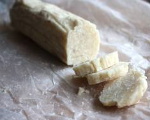 Prep: 2 hr
Cook Time: 30 min
Total: 2 hr 30 min
Serving: 7 dozen
Just like Grandma used to make, coconut icebox cookie recipe.
Ingredients
2 cups flour
1 1/2 teaspoons baking powder
1/2 teaspoon salt
1/2 cup shortening
1 cup sugar
2 eggs
1 cup shredded coconut
1 tablespoon milk
1 teaspoon vanilla
Directions
Sift together the flour, baking powder and salt.
Beat together the shortening and sugar until creamy. Mix in the eggs, coconut, milk and vanilla until well blended.
Gradually add in the four mixture. Stirring after each addition.
Divide the dough in two and shape into 2 rolls, 1 1/2 inches in diameter. Roll in wax paper and refrigerate until firm.
Cut slices 1/4 inch thick and bake at 425 degrees Fahrenheit for 5 minutes.