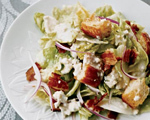 Prep: 10 min
Cook Time: 5 min
Total: 15 min
Serving: 6 Servings
This classic salad is always a winner due to the combination of crisp iceberg lettuce, salty crumbled bacon and smooth and tangy blue cheese dressing.
Ingredients
1/2 cup olive oil
3/4 pound sliced bacon
1 clove garlic, crushed
Sea alt
2 tablespoons mayonnaise
3 tablespoons buttermilk
1-1/2 tablespoons red wine vinegar
1 teaspoon Dijon mustard
Cayenne pepper
1/4 pound blue cheese, crumbled 3/4 cup
1 head iceberg lettuce, cut into 1-inch pieces
1/2 small red onion, thinly sliced
1/2 small red onion, thinly sliced
1cup croutons
Directions
Place the lettuce, onion and celery into a salad bowl and set aside.
Put the bacon in a skillet over medium-high heat and cook for 5 minutes. Transfer to a paper towel lined plate to drain and crumble once cool.
In the meantime, place the garlic in a small bowl, sprinkle with a pinch of salt and then mash into a paste. Add the mayonnaise, buttermilk, vinegar and mustard and whisk the mixture vigorously to combine. Slowly whisk in the oil and then stir in the blue cheese.
Season the dressing to taste with salt and pepper and then pour over the lettuce mixture. Add the crumbled bacon and croutons and toss to coat. Serve immediately.