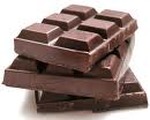 Prep: 6 hr 25 min
Cook Time: 15 min
Total: 6 hr 40 min
Serving: 6
Filled with peppermint ice cream, Ice Cream Cake Roll is a classic family favorite.
Ingredients
3/4 cup flour
1/4 cup cocoa
1 teaspoon baking powder
1/4 teaspoon salt
3 eggs
1 cup sugar
1 teaspoon vanilla
confectioners' sugar
1 pint peppermint ice cream
Directions
Combine first 4 ingredients; set aside.
Beat eggs in bowl until very thick and lemon colored. Add sugar gradually, beating until smooth. Beat in 1/3 cup water and vanilla. Add flour mixture gradually, beating until smooth.
Pour into jelly roll pan lined with waxed paper, spreading batter into corners.
Bake at 375 degrees F for 12 to 15 minutes. Invert onto a towel sprinkled with confectioners' sugar. Roll hot cake and towel from narrow end. Cool on a wire rack.
Unroll cake, removing towel. Spread with ice cream and re-roll. Wrap in plastic wrap. Freeze for 6 hours or until firm.